Subscribe to join thousands of other ecommerce experts
Welcome The New Google Shopping Compendium
As you may already know, Whoop! offers a software which helps and supports you in the process of managing and optimizing your Google Shopping campaigns. But that's not all! We want to help you right from your 'Google Shopping'-start. That's why we decided to develop a Google Shopping Compendium which explains everything you need to know, to use Google Shopping efficiently.
What is it?
'Google Shopping Compendium' doesn't just sound quite sophisticated – it is really awesome 😉 Besides of an overview where you can use Google Shopping Ads, some E-commerce facts and the most important basics about the Google Shopping Product Feed you can find detailed information about each of the attributes. Furthermore we offer individualized downloadable CSV files to simplify your first steps creating a data feed.
As Google Shopping is growing and changing quite fast, we try to keep up by growing and updating the Compendium consistently. If there is a special topic you are missing in the Compendium, just let us know! 🙂
Why do I need it?
Whether you've just opened your very own online shop and decided to turn to Google Shopping to increase your sales and revenue or you are already a pro at Google Shopping and you're not sure how to put an extraordinary new item in your data feed – Google Shopping will challenge you from time to time. In these cases you can always stop by and find the right answers to your questions 🙂
Features
To get an overview where you can use Google Shopping Ads and what to take into account you can use our interactive country table.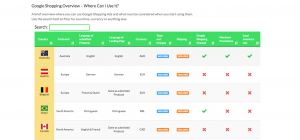 Get the most important facts about the Product Data Feed – short and to the point. Find out how to use the Data Feed and which dataformats are permitted.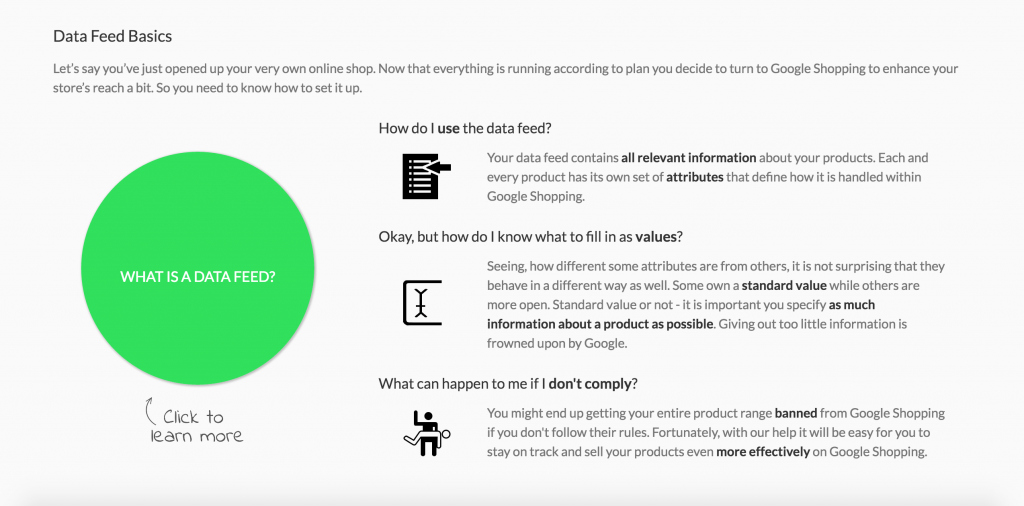 We favour hands-on documentation as much as you do. That's why we added lots of practical examples to our Compendium. Those that you can consider while setting up your own Google Shopping Ads.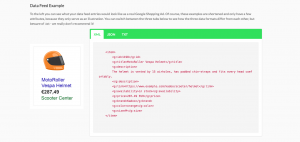 To make it even more comfortable for you we developed a tool which creates personal Data Feed files based on your target country and the category of your products.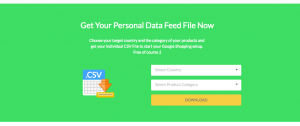 After the basics you can dive into the depth of the Data Feed Attributes. In order to provide you a better overview, we grouped the attributes in seven categories. By clicking on an attribute bubble you can learn more about this specific attribute.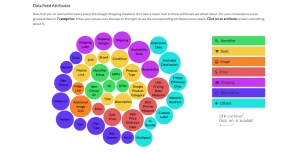 On the detailed view of an attribute you get to know, when and how to use it and get additional information about the usage. Furthermore we also collected common mistakes and country specification for you on these pages.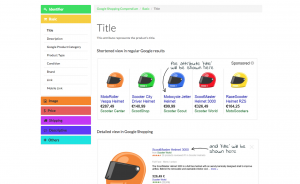 The team behind the scenes
A huge part of the Google Shopping Compendium was developed within a project by seven students from the University of Applied Sciences Upper Austria in Hagenberg. Below you can read their experiences while structuring, designing und developing the Compendium 🙂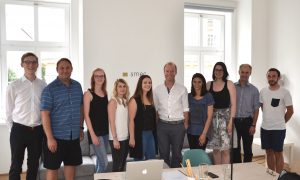 'Hi. We'd like to introduce ourselves. We are Aida, Doris, Kerstin, Marie, Patrick, Paul and Victoria. Together, we've set up the Google Shopping Compendium for Whoop!. When we started this project, we had just returned from our mandatory internships. Our team was specifically put together with people that had worked in different areas, like web development, eLearning, web design, instructional design, SEO, and others. When we received the project description we were curious, as despite our diverse backgrounds, no one of our group had worked with Google Shopping before. We had, however, all heard of it and were excited to make ourselves familiar with the topic.
At first, we were a bit overwhelmed, to be honest. None of us had realized how large the subject area of Google Shopping actually was. There was a lot of work to do before the actual (coding) work could start. We tried to sort the information into logical units to achieve a better overview and then built teams of two to sift the content from various official and non-official Google Shopping sites. In the end we had learned about the data feed, what it does and, most importantly, what it consists of – the attributes of all products. The pre-working part of the project was done.
After finishing this "research phase" we started to discuss the design of the Compendium. We agreed upon a two-way approach: On one hand a static page with all relevant information about the data feed in general that could also easily be extended if need be. On the other hand, and that was our main focus, we wanted to build a site for every attribute there is in Google Shopping. This, however, would have meant a large number of similar looking HTML files, which didn't sound efficient to us. We thought it would be much more performant to create just one template that is filled dynamically with exactly the content from the attribute the user wants to know more about.
Our devs immediately began searching for frameworks, libraries and so on, that would help us achieve our goal. In the meantime we sorted the content, so it could be inserted into a database and started to design the static data feed page and the template for the dynamic page. Here, our diverse backgrounds proved useful once again. Everyone could contribute to our work and we found to have extremely reliable teammates.
Finally, we'd like to thank Smarter Ecommerce and the Whoop! team for giving us this exciting, cool and interesting project to work on. It was very pleasant to work with you, we had lots of freedom and could always come to you if we needed anything.
To sum up, we're really proud of what we've achieved and also of what we've learned in the process. It's always nice to know, when you've invested a lot of your time and energy and you see satisfactory results in the end. We hope you can use our Compendium well and that it helps you set up a perfect online business!'
We also really enjoyed working with the whole team and wish them all the best for their future! We really fell in love with the Compendium!
Was I able to make you curious? 😉 Then check out the entirely new developed Google Shopping Compendium!