Subscribe to join thousands of other ecommerce experts
New Google Shopping Countries
[UPDATE: All Beta countries are now live! That means there are 37 Google Shopping countries and it's a great time to start optimizing]
Google Shopping is truly one of the most successful ad formats in digital marketing. Since the shift to the PPC model in 2012, the popularity has been on the rise. The PLA ad spend is constantly growing. And there is no sign this trend will stop. Therefore, Google will increase the global audience: Until the end of last year, you were able to target 23 countries (check the full list in our Google Shopping Compendium). In 2017 this list will be expanded by 14 more beta target countries.
Google did not make a lot of noise about it but announced it in the Merchant Center documentation. These eleven countries are:
Argentina
Colombia
Chile
Indonesia
Ireland
Hong Kong
Malaysia
New Zealand
The Philippines
Portugal
Singapore
Taiwan
South Africa
United Arab Emirates
Check out all countries in this overview: Google Shopping Beta Countries
Below you see an example of a Shopping Ad in Ireland rolled out via google.ie.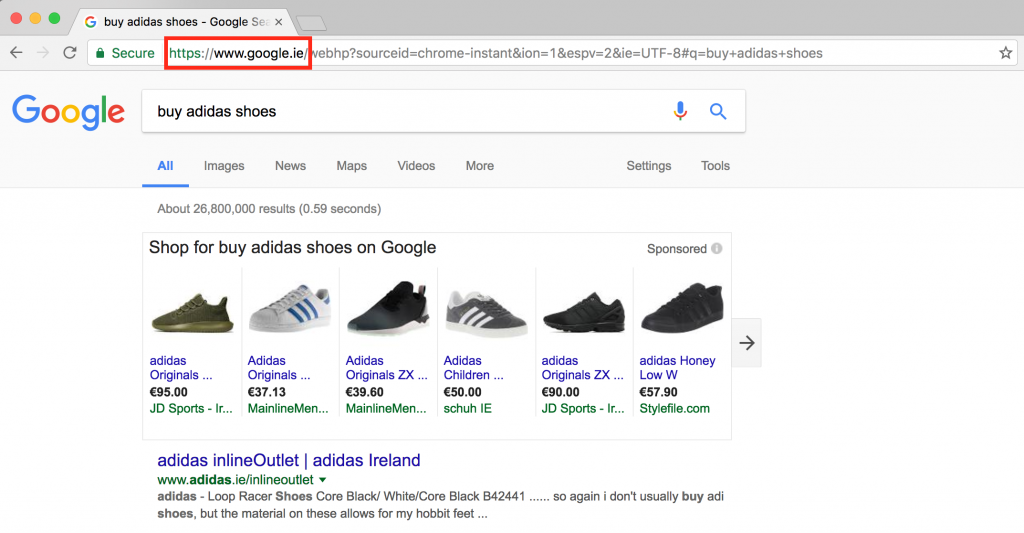 What is a beta target country?
The new target countries are flagged as beta countries. This means Google is currently testing Shopping Ads in these countries. The traffic might be lower or vary a lot compared to regular countries. Google advises you to monitor the performance and your budget closely.
Do not expect the full feature set of Google Shopping yet. We expect that the Google Shopping Channel, Merchant Promotions and Local Inventory Ads won't be supported from the beginning.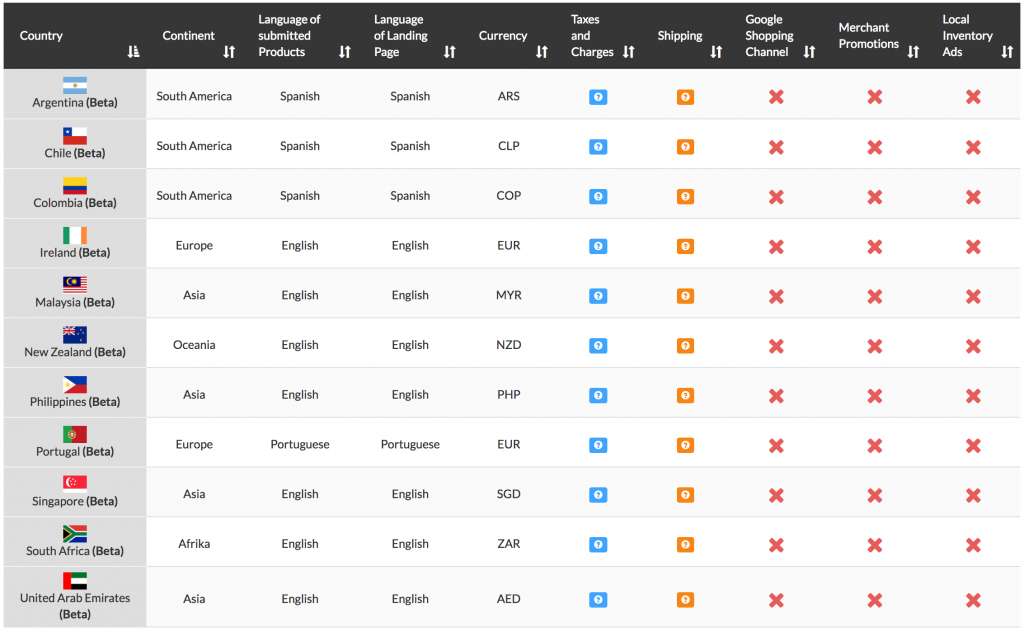 We also do not expect that all countries will leave the beta test at once. In our opinion, there might be a roll-out of some countries earlier this year, followed by a second (or even third rollout) towards the end of the year or early 2018. But this is just our own estimation. Google did not communicate any detailed launch dates yet.
Whoop! already supports all available beta countries
If you're using our Google Shopping Bid Management tool Whoop!, you can profit from these new possibilities to sell your products. We have already implemented all beta countries. You can use all the advantages of Advanced Bid Strategies or Bid Modifiers right from scratch. Now in even 37 countries.
How to get started with a beta country
To make sure your ads show up in the new target countries, follow the AdWords standard procedure first:
Make sure that you have a working product feed with all necessary (and

maybe

additional)

attributes

. I recommend the 

product feed section in our Google Shopping Compendium.

 If a mandatory attribute is missing, your ads won't show up.

Register a new feed in your Google Merchant Center. You do that by clicking the "+" button in the feed section. Fill out all necessary information and decide how you want to upload the feed. Possible methods are:

Google Sheets.
Scheduled fetches (directly from your server).
SFTP, FTP, Google Cloud Storage, or manually through the UI.
Import from supported e-commerce platforms like PrestaShop, Magento or BigCommerce.
It might take a while until your feed will be reviewed and is ready to use. After Google approves it, you can also roll out new campaigns just follow the next steps to make sure Whoop! will also use these new target countries:
Login to your

Whoop!-account

 and click on "Add a New Target Country" in the sidebar. You will be redirected

to the Whoop! Wizard

. The wizard will help you connect Whoop! with the right AdWords and Merchant Center account.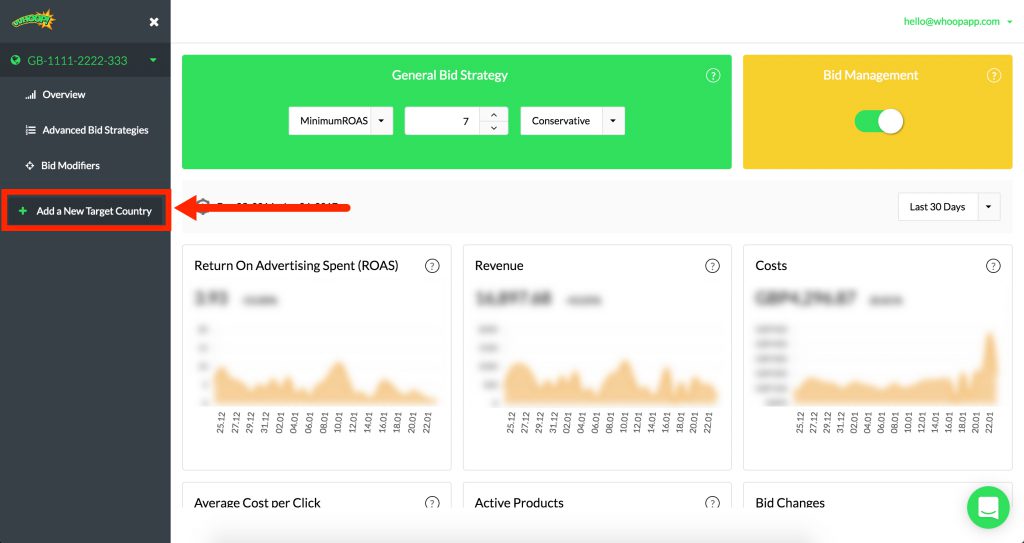 2.Just follow the instructions described in the Wizard and choose the correct AdWords account.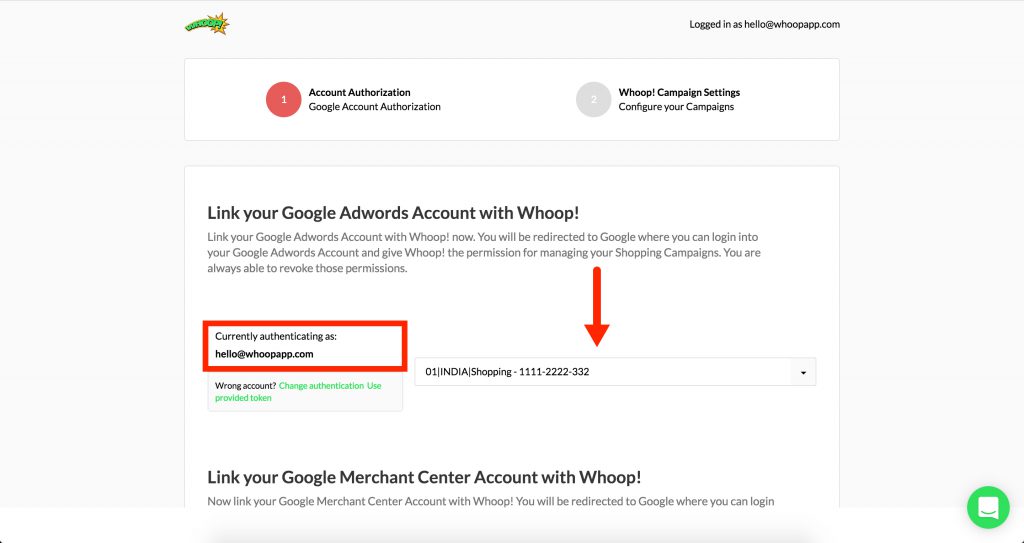 3.The same needs to be done with your Merchant Center account. Note: You need to link your AdWords account and your Merchant Center account in the Merchant Center FIRST. Otherwise, Google AdWords (and Whoop!) won't have access to your new product feed.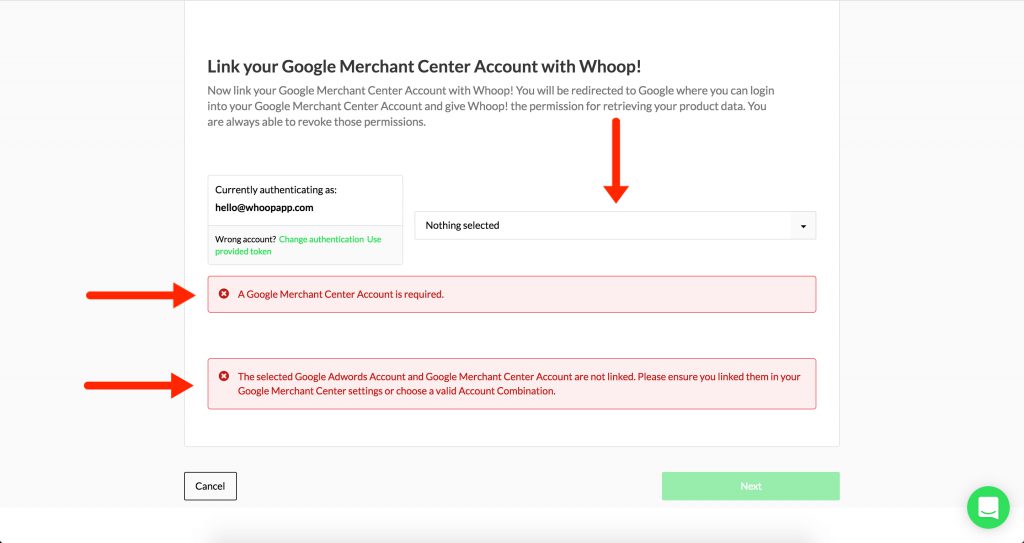 4. After you link your accounts, choose a campaign structure, define your budget and set your default bidding strategy. If you still need help you can follow this guide. Remember: if you're using Whoop! you don't need to think about the campaign structure in your AdWords account. Whoop! will do all the annoying account structuring work.
A brief analysis of new opportunities
New markets are always a great way to grow your business. Google did not choose these countries without any ulterior motive. All countries are high potential e-commerce markets. Here are three number crunching examples:
In 2015 the online retail sales in the United Arab Emirates country amounted to over 653 million U.S. dollars. In 2019 the retail sales will reach 1.9 billion U.S. dollars¹.
321.551 million potential customers live in all new Google Shopping countries combined¹.
The whole e-commerce sector in the Philippines alone will grow by almost 90% in the next four years¹.
If you're planning to expand your retail business, Google Shopping HAS to be an essential part of your marketing strategy.