Subscribe to join thousands of other ecommerce experts
Whoop! is nominated for the SEMY Award
Great news! Whoop! is nominated for the German SEMY Award 2017. The SEMY Award is one of the most important awards in digital marketing. It will be awarded during the SMX Munich (14-15 March 2017). Renowned marketing experts will honor outstanding tools and campaigns in the categories SEO and SEA.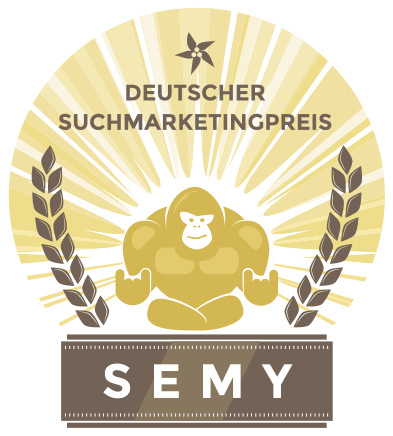 Nomination as best SEA tool
We are particularly pleased with our nomination
 as best SEA tool. Whoop! is the logical consequence of our customer-focused sense for innovation.
We have been working with international retailers since the founding of our company (
smec
) in 2007
.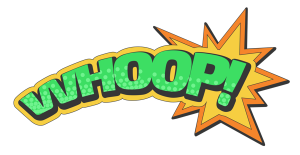 Before Whoop! became one of the most successful SaaS tools in PPC, we started with a simple prototype. The result: no user interface, but a powerful and complex bidding algorithm. Customers who tested this early prototype were completely delighted with the way it worked. Today, well-known brands like Adidas or agencies like iProspect use Whoop! to optimize their campaigns. Whoop! is the only tool developed especially for Google Shopping.  We have a proven 360° understanding of retail and online marketing.
That's why we can offer features that people
really
need to align their business goals with their AdWords campaigns
.
Philip Neumann, Senior SEA Manager at baby-walz.com says about Whoop!:
"Whoop! delivers great added value in the management of our Google Shopping campaigns. Thanks to advanced bid strategies, we can create and adjust individual bidding rules quite easily.
The item-based campaign structure and predictive bidding enable the CPC bid of every single product to be automatically set and adjusted. Thus, we save time and can apply the freed-up resources elsewhere.
Moreover, our performance has improved through Whoop! – our sales are increasing and our ROAS has significantly risen. I can recommend Whoop! to everyone who would like to exploit the full potential of Google Shopping."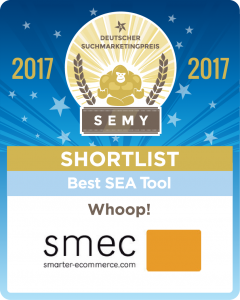 We're also proud that we were nominated by a high-class jury. It's already a distinction that these experts value our work. For example, Martin Roettgerding is an absolute luminary in the field of search marketing.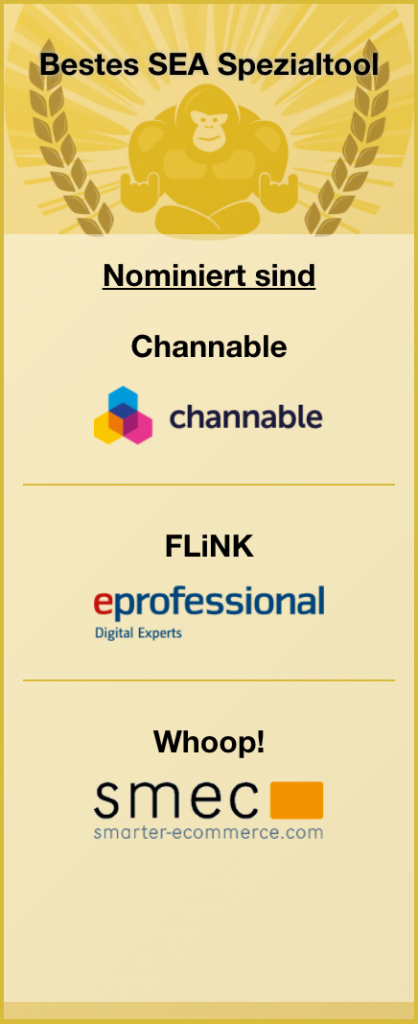 smec is nominated for the best SEA campaign
Whoop! is not the only special software we offer. Our main brand smec's success story is closely linked to our flagship tool for Google AdWords Text Ads: the AdEngine. The AdEngine uses a web shop's data feed and individual business rules to automatically create highly personalized ads.  It is constantly developed and even extensive changes by Google are implemented quickly. Our customers were already able to use Expanded Text Ads before their official launch.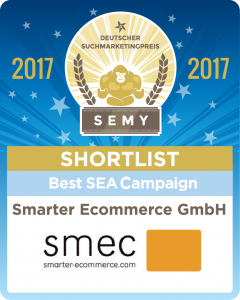 The competition in the category "Best SEA Campaign" is challenging: eprofessional and One Advertising are also competing for this award.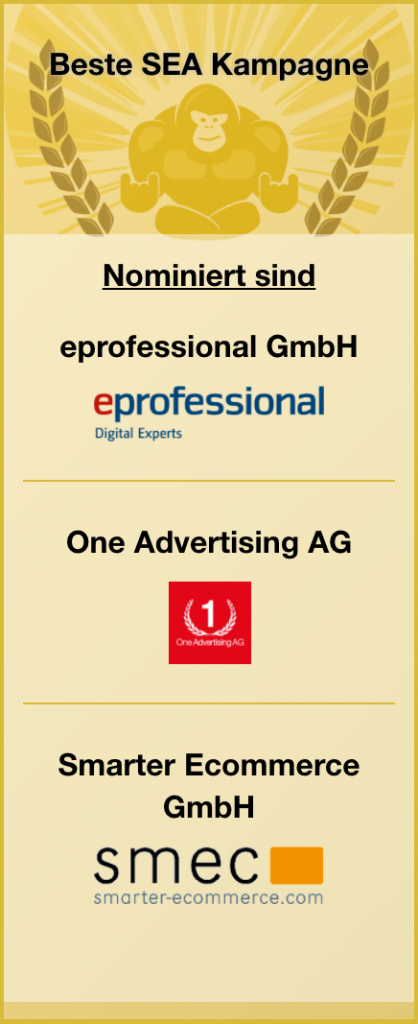 If you're interested in more details about our nomination for "Best SEA campaign", you will find a longer description here (German only). All information about the AdEngine can be found here.
You can also meet us in person or join us for the award ceremony.  Of course we are also attending SMX, just visit us at booth 7 for a live demo of our tools!
We are really proud of both nominations! Wish us all the best for the ceremony on March 14th, 2017!