Subscribe to join thousands of other ecommerce experts
The Future Of The Google Result Page – Shopping Ads And The New Knowledge Panel
Maybe you've already spotted Google's new way of promoting or enhancing certain search terms, the Knowledge Panel. The Knowledge Panel is getting more and more powerful and it seems that it will be the future way how google presents their ads and content.
Too long; didn't read version:
Google extends their Knowledge Panel and aggregates almost any structured data to certain search terms
Shopping Ads are also integrated and are an essential part if you're looking for a product
Customers can select color and other product features directly on the search engine result page in the knowledge panel
Structured data for your shopping campaigns is getting more and more important
We all know the Knowledge Panel if searched for a certain information which is linked to wikipedia. You get a small box on the right of the search results which contains a lot of basic information. Google aggregates data from several sources to provide you the most relevant information in a fast and easy way.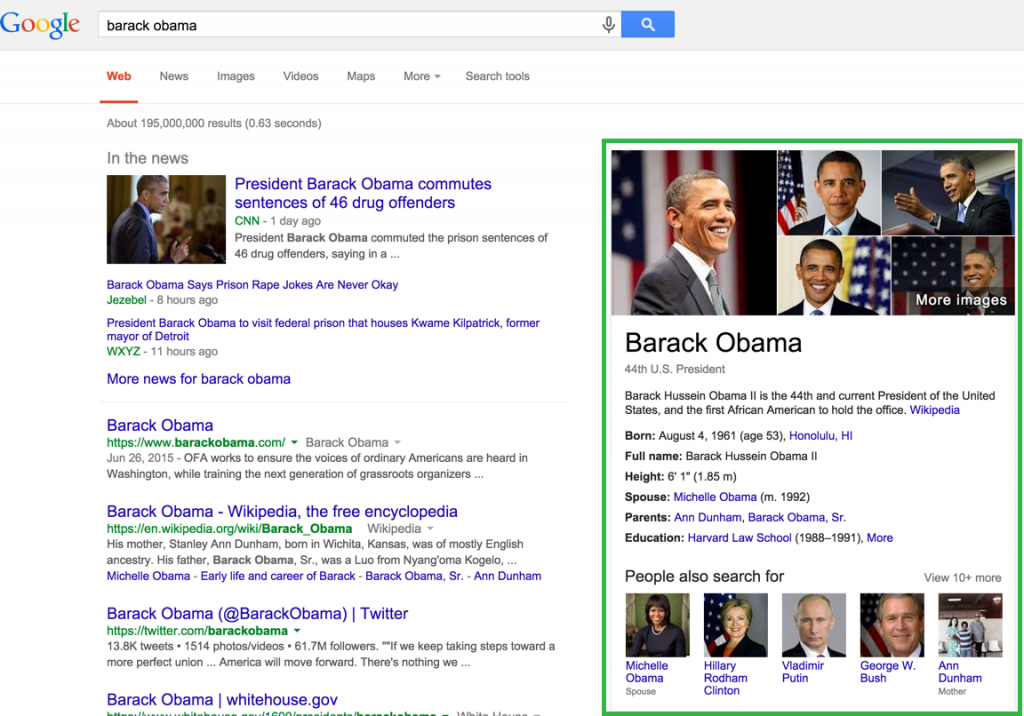 This works quite well with any wikipedia example, because wikipedia of course has a real good structure of their content and is ranking really well in Google.
As you can see the Knowledge Panel is not brand new and hot stuff at all, but the real news is that Google extends it to almost any search term where it can find appropriate and structured data.
We tried it with several search terms using different US based IP addresses and it seems like that it's not only a small test by Google.
As you can see on the screenshot where we searched for the "samsung galaxy s6", there are no shopping ads as usual. But just let's take a closer look and fillet the search engine result page step by step.
First impression: Oh, it's huge
Do you see the "old" normal text ads? Of course there are at their normal place as usual, but the awareness of them is nothing compared to the huge Knowledge Panel. That's really interesting because as every UX/UI designer knows, the position for the best awareness on a website is at the top left corner.
One infobox to rule them all
It seems like that Google aggregates almost any structured data they have and are able find.
So if we break down the Knowledge Panel into the single parts we have:
1. Product name with image
2. A list of shops (which is the real representation of your shopping ad)

3. Selectors for color, capacity and even for which provider

4.Product details

5. Reviews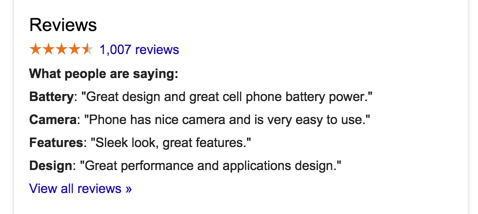 6. Links to similar products

All relevant information is combined into one box. Instead of leaving the result page to look for reviews or any other information the user can  make his choice and comes directly to your shop. In our opinion a great way to improve and raise the conversions.
Soooo, there are no Shopping Ads anymore?
Of course they are still there! They are just integrated in the Knowledge Panel. Compared to normal text ads they are now getting more important than ever before. Google just enhanced them with a lots of meta information. If you see it out of the customer perspective: How cool is it? You get all relevant information like price, reviews and a variety of shops to buy the product. Just choose color, capacity and one click on a shop and you can put it into your shopping cart and check out. Easy!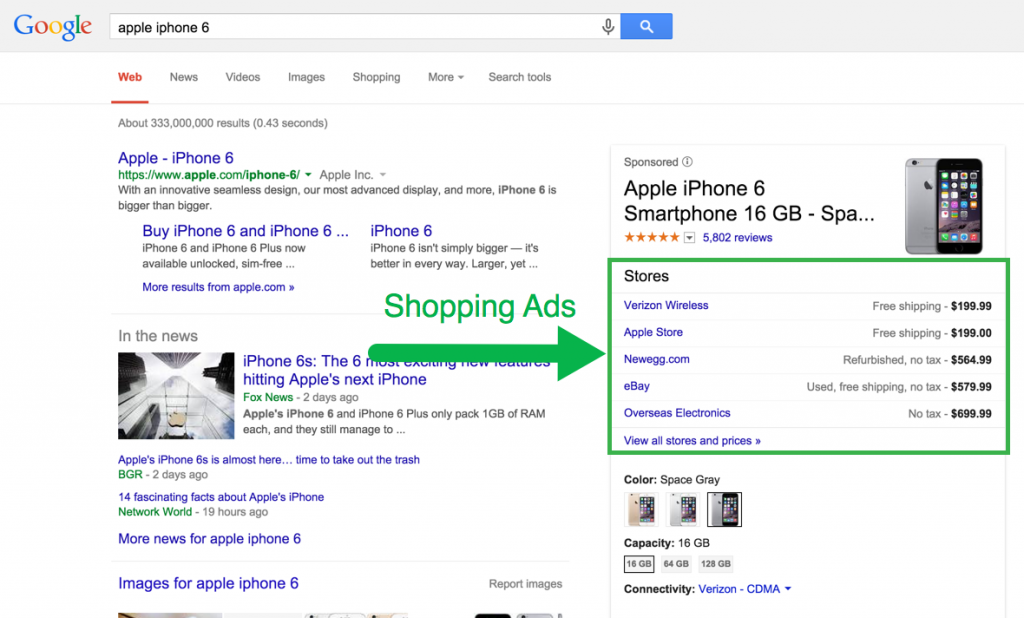 What does this mean for me as a retailer?
Google proves that Shopping Ads will be the future for advertising retail products and most analysts agree that they will focus on them more and more. Text Ads still have right to exist, but they will never get the same attention like a shopping ad inside the Knowledge Panel. If you're not using Google Shopping until today, better start now!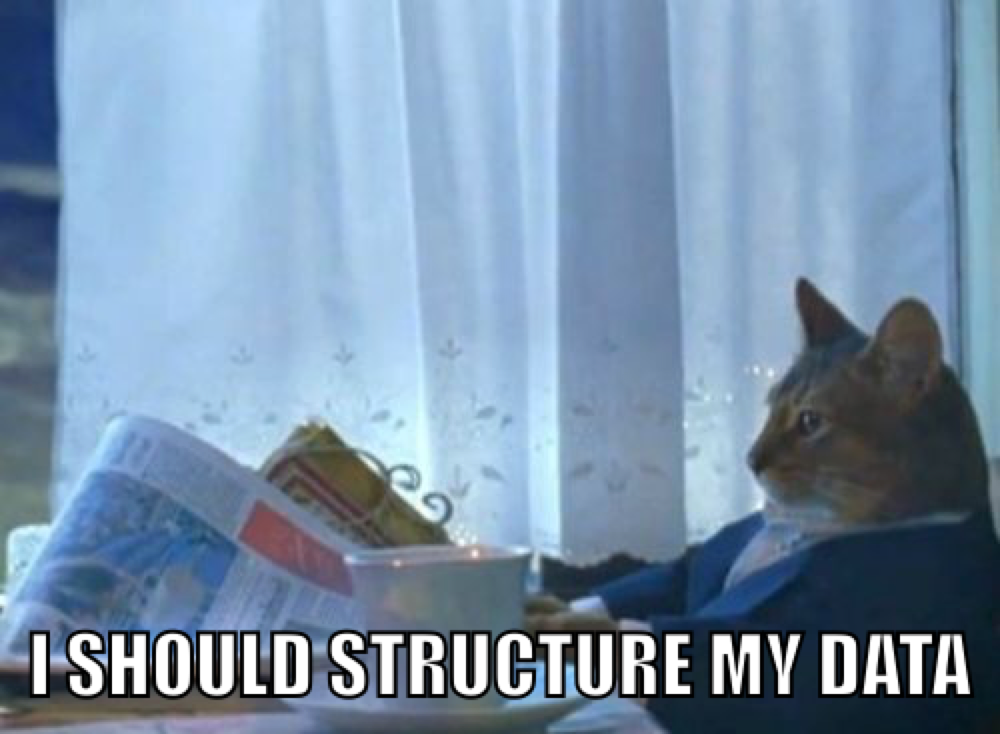 The three most important requirements: structured data, structured data and structured data. If you want to participate you need a really good structured feed. It was already important to get the best performance before, but now it is almost mandatory.
See Shopping Ads and the Knowledge Panel in action
Currently Google is testing this advanced Knowledge Panel in the US only. If you're located in the US (or have an VPN in the US) you can try it yourself by searching for these example keywords. Also nice to know: a trigger word like "buy" which sometimes was need at the "old" Shopping Ads is not necessary.
Example Keywords Shopping Ads and the Knowledge Panel:
xbox one
playstation 4
samsung galaxy s6
apple iphone 6
macbook air 13 inch
go pro hero
razer naga
canon mark iii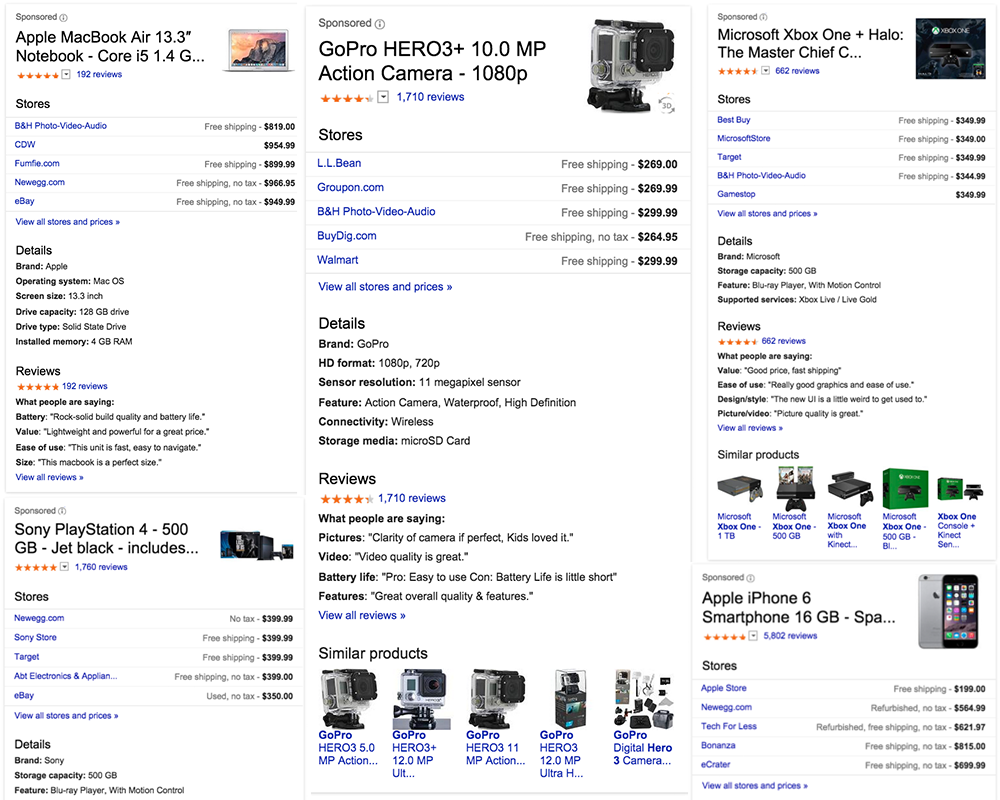 The Knowlege Panel works not only with certain products, also with services and more difficult products. Just try:
Of course I can not guarantee that it will work for you because we don't know the exact way how Google is testing these features. So it could be that you only see the "normal" small Shopping Ads.
So, where is the buy button?
We expect that in the near future also a buy button will be implemented. This would follow Google's idea to make the shopping experience more easy and uncomplicated. Maybe it could be a complete shift for the whole online advertising, because then you really need to focus on structured data feeds and better bid management.
If you have any questions or comments just leave a comment below or tweet us!