Subscribe to join thousands of other ecommerce experts
New AdWords Feature to Troubleshoot Product Feed Errors
Earlier this year Google published a small but handy feature for getting more insights of your Shopping campaigns. Since April 2016 you can quickly check the individual product status in the new "Products" tab inside your AdWords account.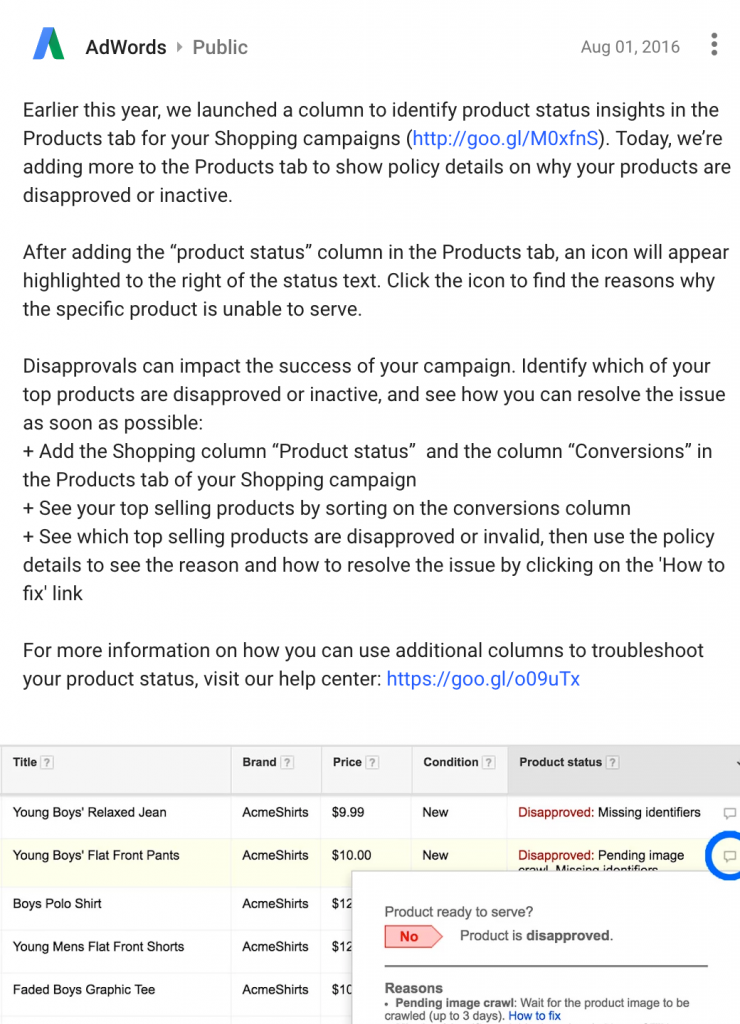 On August  1st Google announced a small new AdWords feature on its AdWords Google+ profile. It's not a huge game changer, but detailed information on product disapprovals is always helpful when trying to fix product data feed errors.
Product Feed errors are still omnipresent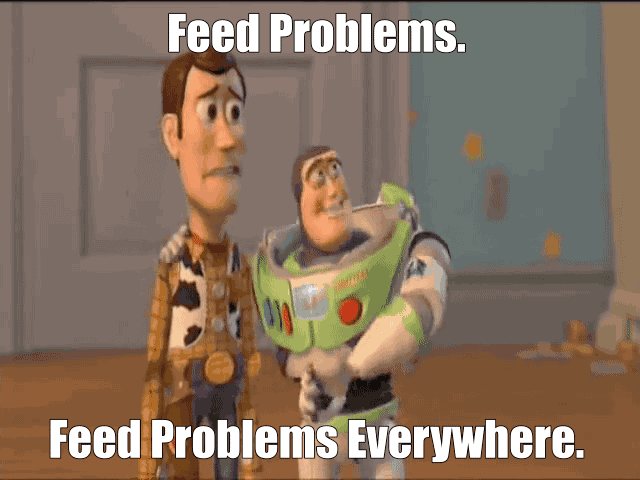 Feed problems are still one of the most common reasons why Shopping Ads are not served. With these insights, Google made it much easier to spot errors.
You also have the possibility to get a complete overview how many products are approved or how many are active.
Get Shopping insights in your AdWords account
You can add these columns if you click on "Modify columns" and choose the columns you need e.g. "Products submitted" "Products approved" and plenty more.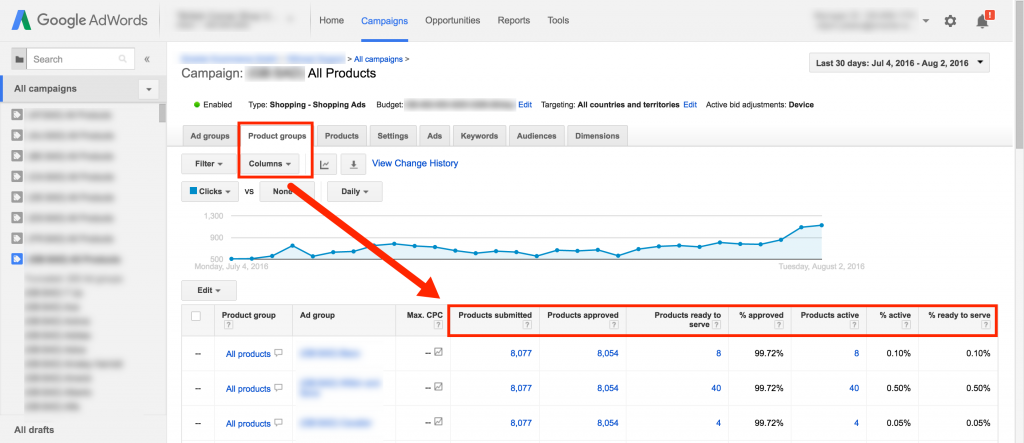 The following columns are available to you from inside your AdWords account:
Products submitted: Total products in your linked Merchant Center account
Products approved: Total of submitted products approved by Google
Products active: Approved products with a bid
Products ready to serve: Active products that are in stock
% approved: Percentage of approved from total submitted products
% active: Percentage of approved products with a bid
% ready to serve: Percentage of your total products eligible for auction
New: Get detailed suggestions on how to fix your feed within the Products tab
If you don't want to flood your AdWords view with all these columns, you can also check the Products tab. Here you won't have a summary of all your products, but you'll get a more detailed view why your products got disapproved.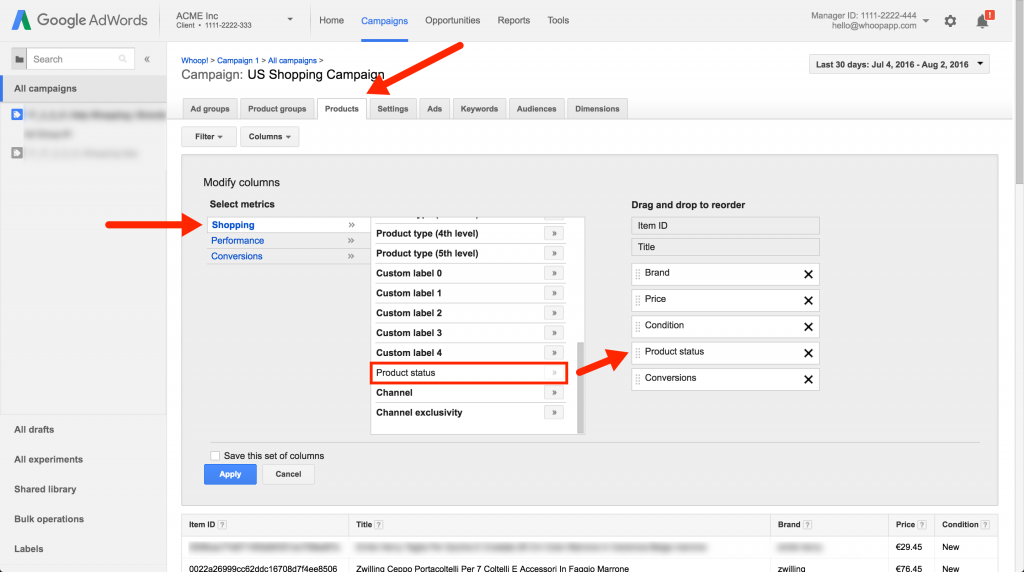 Additionally, Google added a "How to fix" link to the corresponding AdWords support document.
These hints can be found if you click on a small icon next to the Product status.
This could be quite handy because you always have all information at your fingertips without switching views or use the Merchant Center.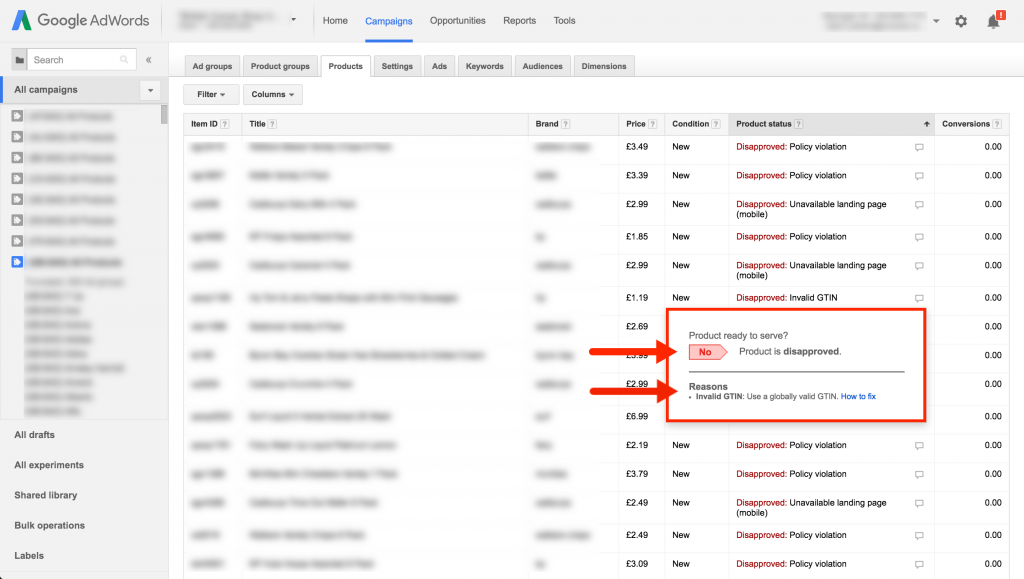 ---
Try the first and only tool specially designed for Google Shopping!
---
Product insights: AdWords vs. Merchant Center
You can also check your products in your Merchant Center account and get detailed information about product errors. So why using AdWords? Well, AdWords has the big advantage that your account structure is part of the insights. If you structured your campaigns on brands, you'll see if all products of brand X are affected. The same applies to product groups or any other dimension you use for subdividing your products.
The Merchant Center is perfect for gaining an overview and getting a summary of all warnings. You can use the Diagnostics Tab for this. Of course, you also get detailed information what is wrong. But you won't get any hints regarding your account structure. It's also not possible to search for brands or product groups. In the Merchant Center you can only look for products with the help of the product ID. And who knows the exact product ID of thousands of products?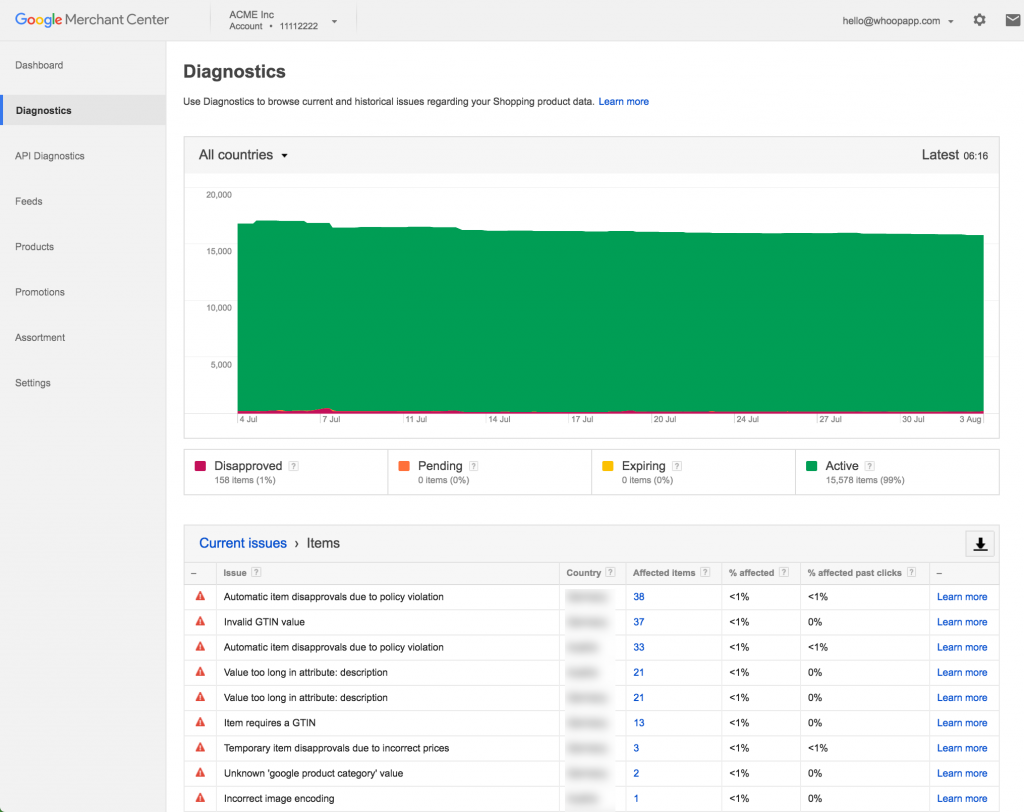 Conclusion
The new possibilities for getting insights about your Shopping campaigns are great and may help you to identify errors in your feed. If you just need a complete overview and see your overall feed quality, you might use the Merchant Center. For detailed information, if there is a particular problem with certain brands or product groups, AdWords should be your first choice. With the new "How to fix" link it's now a lot easier to troubleshoot feed problems.
Hint: If you need more information you should keep following our blog. The next part of her PPC Adventure is about analyzing Google Shopping campaigns!