Subscribe to join thousands of other ecommerce experts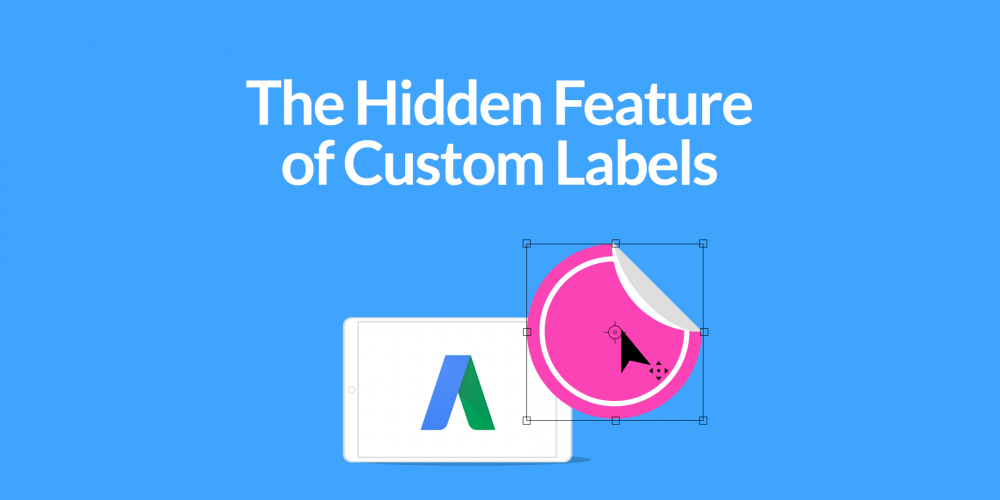 Note: This article first appeared on PPC Hero.
Are Custom Labels still one of the crucial attributes to make the most of your Google Shopping campaigns in 2023? This article was published back in 2017. In the wake of Performance Max – Google's new campaign type – many things changed. But the importance of utilizing Custom Labels skyrocketed. While text ad campaigns revolved around keywords, and Shopping campaigns around products, PMax has assets at its core. But products that are unified by a business attribute like margin might not have anything in common thematically. So the question arises: can you structure Performance around a business objective like margin instead of a theme? Yes, you just have to consider both. You can utilize custom labels for your Shopping or PMax campaigns. In a recent article we reveal how you can structure Performance Max campaigns with custom labels, linking your business data with campaign data.
That being said, here's the original article that reveals for you the "hidden feature" of Custom Labels and how it is used beyond campaign structuring in Google Shopping:
—
Custom Labels are a great way to structure Google Shopping campaigns. But there are also people who think that they're overrated. Kirk Williams (I'm sure you know him as PPCKirk from Twitter and ppcchat) wrote an article about custom labels and how NOT to use them, discussing the incremental value of custom labels. Let's discuss the role custom labels play in structuring campaigns, our approach and best-practices:
Custom Labels and their "Hidden Feature"
What makes custom labels so special? Let's start with the shopping performance report: every dimension of your report data is stored. This means that the custom label (or brand, product type, etc) associated with an item at the time of an impression is recorded.  According to Google, "the Shopping Performance report provides shopping campaign statistics aggregated at the product level. Product dimension values from Merchant Center such as brand, category, custom attributes, product condition and product type will reflect the state of each dimension as of the date and time when Google Ads (formerly AdWords) recorded the corresponding event."
This is not a given: the most prominent example is quality score. Quality score is always reflected with through the latest data point and you are not able to go back in time. This means you'd have to use 3rd party tools or scripts to historicize data. The fact that performance data related to custom labels is stored and not overwritten provides tremendous possibilities for analyses and enables us to detect patterns.
Custom Labels: Advanced Analysis
Back to topic. As custom labels are historicized, you can use them to analyze your shopping performance data even if the custom labels change over time — And there is a fair amount of change if you look at the dynamics of your assortment. The first step would be to test different hypotheses. Don't waste time changing your structure if it doesn't boost your performance.
The good thing is, that no matter what campaign structure you chose originally,  data is available through the Shopping Performance Report. If you, for example, structure your campaigns by brands, you will also have performance statistics available for product types, categories and custom labels.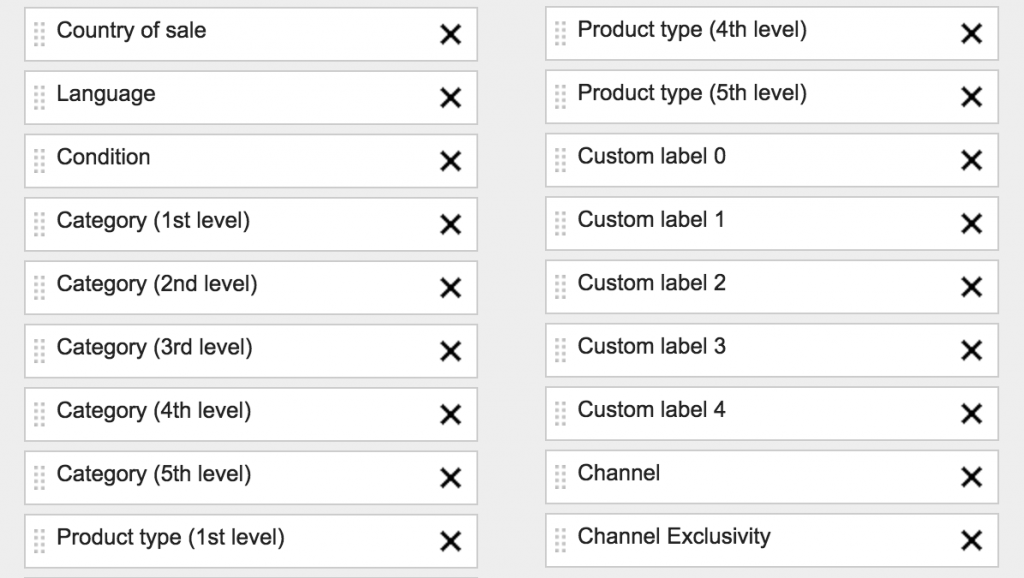 Powerful reporting capabilities of Google Shopping
You can see custom labels as your experiment toolbox: test different hypotheses and run experiments (up to five at the same time). In need of ideas? Here are some examples of hypotheses about campaign performances:
availability and the time of shipping have an impact on performance
a competitive price influences performance
new products perform better than older ones
Note: if you have a dynamic inventory with rapidly changing prices and availabilities you have to update your feed frequently to make the most out of custom labels and to avoid disapprovals.
Custom Label Hypotheses: The Process
The process for such an experiment looks as follows:
Formulate a hypothesis
We will start with the hypothesis, assuming that the time of shipping has an impact on the conversion rate and customers seek a purchase option that guarantees that they receive the wanted item immediately.
Design the experiment
We have 3 different states of availability. First, an item can be in stock and shipped the very same day or on the following day. Second, we will be able to ship the item in 2-3 days (and display this information on the landing page) — and finally, the third status, indicating that we will be able to ship the item after 4+ days (also displayed on the landing page). So, we will use a custom label to store this information with dummy identifiers like 0, 1, 2 or more descriptive values such as "in stock," "2-3 days," and "4+ days."
Apply the changes to the custom labels in your feed
Ensure that the availability status is correct and your feed updated frequently. From my experience, an hourly update will do the job as the Google Ads (formerly AdWords) system also needs time to reflect the new information.
Run the experiment
The easiest part: lean back and watch how data is accrued. If you see any odd-looking things like "- -" in the custom label report (which denotes a missing custom label) check your feed, especially if you have the full range of your products labeled.
Analyze the experiment

Impact of availability on conversion metrics
Apply new insights or reject results
If you find that you gained useful insights that provide an uplift to your PLA campaigns, just rearrange your Shopping campaign structure and bidding strategy — Or use a bid management software capable of doing that without re-structuring your campaigns.
Applying Custom Labels: Another Example
Here is another example, this time of a German online retailer selling shoes. Shoe retailers (or fashion retailers in general) face a specific problem: the availability of different sizes has an impact on the sales numbers of the product, meaning if a popular size is not available anymore the conversion rate dwindles. Please confirm if that is the case for your shop before applying custom labels — But it seems quite obvious that people are frustrated if the look for shoes, find them on Google Shopping, and then find out that their size is not available anymore.
What to do? First, you could submit your most prominent sizes via your Google merchant feed. If you run out of stock your item won't be displayed even if the query matches the item. Secondly, adjust bids in accordance with availabilities. Let's plan the experiment for this case and begin with the hypothesis:
(1) Hypothesis and Experiment Design
We want to test whether the conversion rate is low if a shoe is not available in many different sizes. We will use a score (between 1 and 10) to describe how well we can fulfill demands from potential customers. Ideally, the stock situation would look like this:
—

—
If every size of a pair of shoes is available and we can fulfill the daily demand we will define a maximum availability score of 10 and apply it to each corresponding item. I don't want to go into the detail of how to map the inventory to the scale of 1 to 10 (eg. how to alter the score for female/male-variants) but here are some suggestions:
—
—
If you face an inventory situation similar to this (only 2 out of the 3 most popular sizes are in stock and some other sizes are missing altogether) you would apply an inventory score of 7. If none of the popular sizes are available, apply a score of 2. For the rest, just interpolate between these situations and apply your scores.
—
(2) Apply changes to feed and run the experiment
Again, ensure that the availability scores are correctly applied and your feed up-to-date, then run the experience. After enough data is available, analyze the experiment and decide whether to apply or reject the results.
—

Impact of Inventory Score (1-10) on Conversion Rate
—
Conclusion
—
Custom labels are NOT ONLY great to structure and steer your campaigns, they also represent a great way to test hypotheses before applying changes to your structure. As with any experiment, there is always the chance that you will not end up with significant results or insights — that is part of the game. But if you do find valuable insights, you are heading straight towards campaign optimization.
—
Have you ever walked the tightrope between efficiency and scale? By smartly segmenting products, you can enhance both efficiency and scale, striking a balance that traditional methods struggle to achieve. If you combine that with innovative ROAS alternatives (like profit bidding), this can elevate your advertising game to new heights. And Custom Labels is a way for your to  link your business data with campaign data in order to make all that possible. If you're curious to learn more about the hidden potential of product segmentation in ecommerce, listen to our Podcast Episode below: