Subscribe to join thousands of other ecommerce experts
A highly successful bid management tool called Whoop!, a company name that almost acts like a slogan, as it already conveys the promise, and now a broadly known expert on digital organisational change named David Merrifield, formerly RS Components in the UK: We are talking about smec – Smarter Ecommerce, one of Europe's most dynamic SaaS+ companies, who is reinforcing their top-notch reputation of being a strong strategic partner worldwide.
Linz, Austria. With new offices in London and Vienna in 2019/2020, the internationally recognised software provider smec – Smarter Ecommerce is underpinning their serious ambitions towards further expanding their industry know-how and best-in-class services for online retailers worldwide. Being specialised in text and Shopping ads that are being displayed on the search results page of the most prominent search engines Google and Microsoft, the Austrian innovator constantly challenges existing solutions in the highly competitive PPC environment by continuously adding more value to their award-winning software solutions. And it genuinely works.
In the 12 years since being founded, smec – Smarter Ecommerce has managed to build a proven track record with deep insights across industries from fashion to pharmacy and many more. In the meanwhile the Austrian-based software company further expands their services and partnerships by embracing a strong consulting approach. Even more so, CEO Jan Radanitsch emphasises the importance of addressing the upper funnel, moving from a paid search specialist more into the direction of a genuine retail expert that accompanies all the way along the customer journey.
Based between the London and Linz offices, David Merrifield, formerly VP of Performance Marketing at RS Components, a major global trading brand of electronic components, will lead high level consultancy projects, linking smec's performance products to strategic factors that matter, especially to UK clients. Moreover, he will drive smec forward in leading international markets, taking their message of smart, guided automation to the very best retailers around the world. "Not only is David Merrifield a digital specialist and excellent speaker, he is a warm and experienced manager who will mentor and support the great talent abundant in smec", as CEO Jan Radanitsch expresses his thoughts with regard to hiring David Merrifield.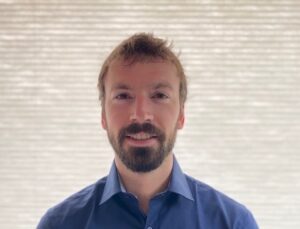 "I couldn't be happier to start at smec. Given I have been a partner with smec for the last couple of years, I know full well the value they drive for clients. I'm delighted to join in this growth phase and help bring smec's innovative retail solutions to organisations looking to grow their digital business at speed", David expresses his thoughts after staying for the very first weeks in Austria. Soon, he will have his first official appearance for Smarter Ecommerce at the International Search Summit in London in the middle of May.
In this short time span since March, David has already become a vital part in smec's mission of pushing ecommerce to the next level – now from home office just as all the other 140+ experts working for the Austrian SaaS+ company. Together, they do everything they can to actively shape the future of the paid search industry by making ecommerce just a little bit smarter for everyone out there, especially for online retailers. In this sense, we can be excited about what is still to come from smec – Smarter Ecommerce that just keeps delivering for all kinds of industries and their various markets.