Subscribe to join thousands of other ecommerce experts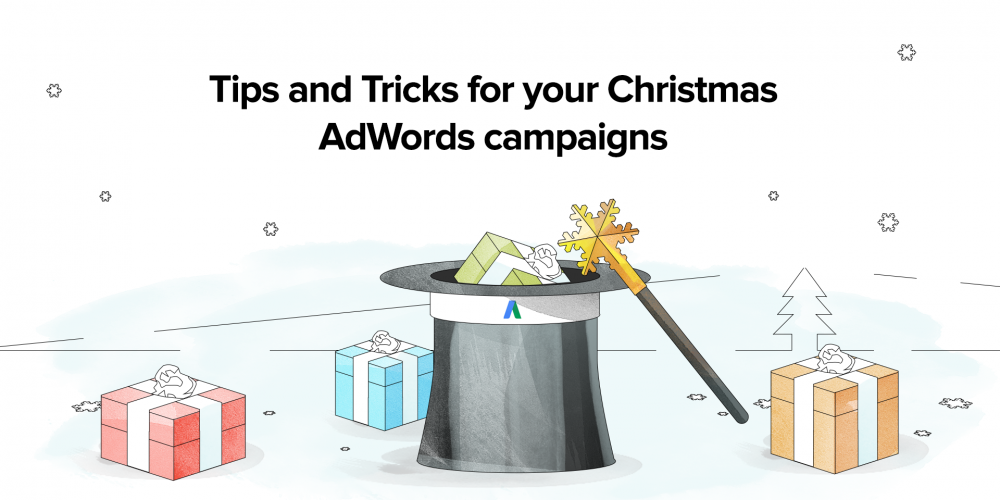 Sometimes it seems a bit weird to spot shop windows in full Christmas dress weeks or even months before the actual Christmas day. For retailers, however, preparing for the holiday season in time is a must — especially when it comes to strategic financial and logistical preparations. In late August, we joined Google for an interesting breakfast session dedicated to this 'Christmas in Summer' phenomenon and will now provide you with relevant event insights, spiced up with Think with Google tips and our own AdWords experience. Let's take a look at your Christmas AdWords campaigns!
Search Strategy (September – October)
With the holiday shopping frenzy just around the corner, online retailers should check NOW whether they have finalised the following key preparatory steps and are thus ready for the peak search phase starting in November:
evaluate past year performances to build on best-seller campaigns
use the dimensions tab to identify top seasonal Google Shopping items
check the ad schedule page to identify demand peaks
set budgets in line with seasonal sales goals
define target goals and success measurement guidelines
add seasonal keywords to your text ad ad groups
ensure remarketing tags are active for relevant websites
adapt text ad content to advertise holiday promotions or seasonal articles
ensure conversion tracking is in place for your Christmas AdWords campaigns
check your PLA feed to include new products and to ensure no products are rejected
apply custom labels to top performance Google Shopping IDs
always keep in mind stock levels and your supply chain to satisfy demand
Your AdWords text ads and Google Shopping campaigns are not yet ready for the holiday season? Don't worry: our PPC experts are ready to help so you don't miss out! Write an email to [email protected] specifying your problem and we'll reach out to you.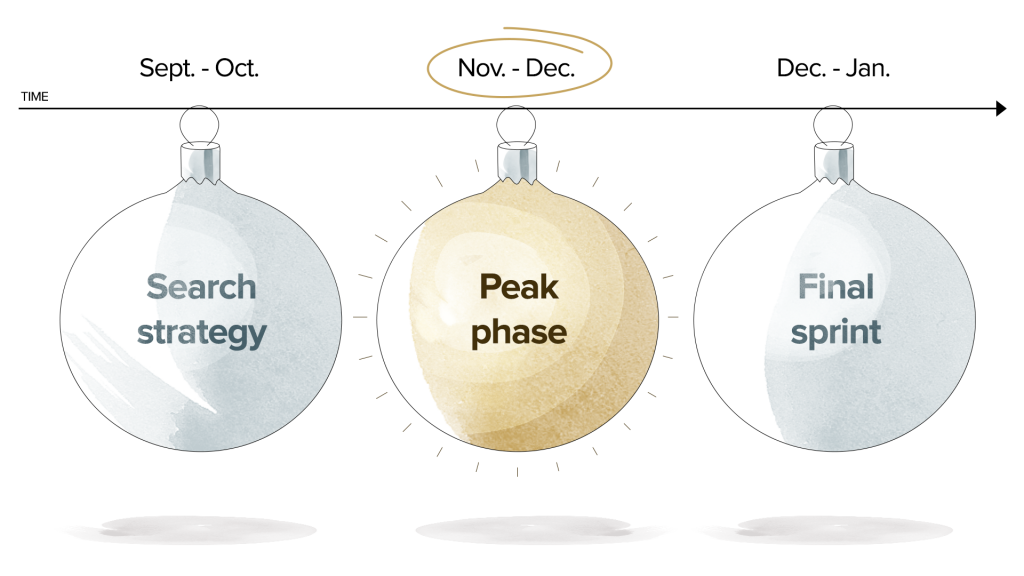 Preparing Search Campaigns for Christmas (Think with Google)
Peak Phase (November to early December)
After finishing the first steps and thus building a framework based on your personal retail experience, it is time to prepare your campaigns for an above average search volume. November has become a crucial period for retailers to reach shoppers online! Black Friday and Cyber Monday, moreover, are no longer single days but whole shopping weeks influencing online sales of particular products. During Black Friday 2015, for example, Google noticed a surge in query volume growth related to apparel and phones. In specific, people increasingly looked for watches, smartphones and jewellery . In addition, there was a rise in highly specific searches combining the term 'black Friday' with products, product categories or brands.
"82% of Christmas shoppers use the internet to research presents" — Christmas Shopper Survey 2016
Key steps:
flexible bidding strategies aligned with seasonal business goals
implementation of location based ads and bids
device specific campaign splits or device modifiers with a special focus on mobile
adjustment of bids and budget limitations to keep the impression share high
using remarketing lists and adjusting bids for returning users
apply ad extensions to add relevant information about similar products, delivery times, etc.
According to Google, more than 50% of black Friday search queries originate from mobile devices, making them an ultimate shopping assistant. It is, therefore, essential for retailers to assess the performance of different devices and to adjust bids accordingly. This can either be done by implementing device modifiers or through campaigns splits.
"78% of Austrians buy Christmas presents online" — Studie Österreichisches E-Commerce-Gütezeichen 11/2016
Final Sprint (December to January)
While many late-deciders visit local shops to complete their Christmas shopping activities there is an increasing number of people who make purchases online – even a few days before Christmas. To target these shoppers, it is wise to advertise short delivery times and arrivals before Christmas. The ad relevancy can be boosted further by opting for local inventory ads to attract shoppers who prefer physical shops. It is important to really make use of your available ad extensions when setting up Christmas AdWords campaigns!
Finally Christmas day has come and we are ready for jolly holidays with our families. Presents are exchanged and everybody is happy – well, maybe not everybody… gift returns are a big thing after Christmas. And what about all those coupons which have yet to be exchanged? Don't you want to target exactly those people by offering an easy exchange of goods or a large assortment to select from? So don't forget about the time after Christmas which affects retail sales well until the end of January.
Smarter Ecommerce wishes everybody a successful holiday season!