Subscribe to join thousands of other ecommerce experts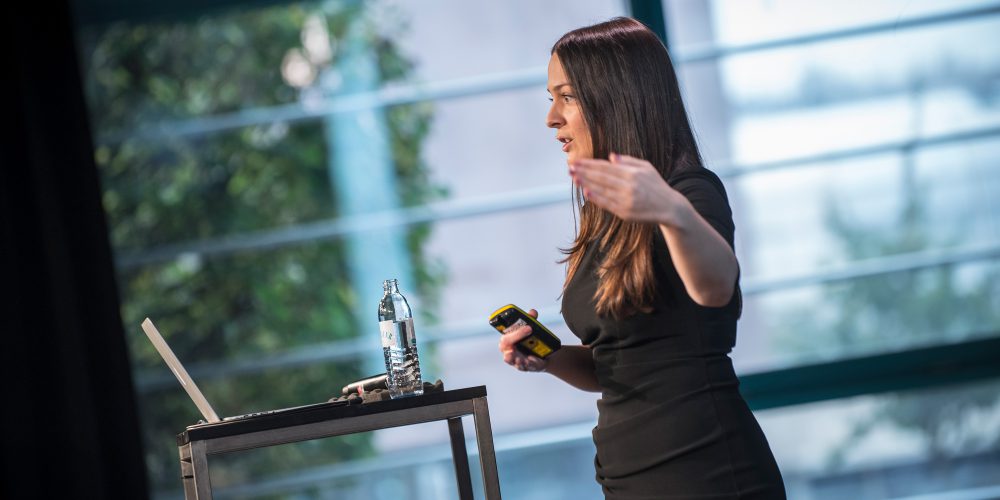 Wondering what the 7 psychological principles of successful ecommerce are? In her keynote at the Great Day for PPC Automation, bestselling author Nathalie Nahai offers expertise from her unique perspective as a web psychologist. Nathalie applies behavioral and cognitive insights relevant to marketers, demonstrating how humans can be both irrational and predictable creatures.
Being aware of behavioral and psychological tendencies helps marketers to generate successful ecommerce campaigns which are both persuasive and ethical. Here are Nathalie's 7 principles:
Endowed Progress
Sunk-Cost Fallacy
Appointment Dynamic
Cognitive Load
Processing Fluency
Hedonic Adaptation
Dopamine Loops
If these principles sound rather technical to you, they are — but Nathalie's command of the topic and her lucid presentation style make the concepts easy to comprehend.
1. Endowed Progress
Giving users the feeling of an (artificial) advancement towards their goal has a major impact on their value perceptions and boosts conversion rates. Loyalty stamp cards are a great example of successful ecommerce strategies: handing out cards with stamp marks already on them, motivates clients to make purchases until the card is used up. All that's needed (besides this head start) is a clear incentive for users to start the process in the first place. The result will be a higher percentage of completed tasks and a reduction in time needed for users to convert.
2. Sunk-Cost Fallacy
Human beings are more likely to continue an endeavor once they have invested time, money, or effort in it. It's exactly this principle which draws people to games such as FarmVille: you have invested time (or even money) to harvest your digital tomatoes — you definitely don't want them to go to waste.
What do you need to trigger certain actions on your #website? @NathalieNahai: sunk-cost investments increase action completion likelihood pic.twitter.com/GVm4TP1IRr

— smec (@smec) October 18, 2017
3. Appointment Dynamic
This rather complex term describes the positive effect of participating in a rewarding action with a limited timeframe available. Weekend discounts, happy hours, or any other deals with a fixed deadline fall into this category as they initiate a habit of returning to your website.
4. Cognitive Load
Cognitive load is the total amount of mental effort a task imposes on our cognitive system. A high cognitive load activates the same parts of our brain as physical pain. As you aim to convert your leads, it is thus critical to lower this friction and not to exhaust the limited capacity for cognitive processing. How? Successful ecommerce strategies include star-rating credibilities, 1-click check-outs, high ad relevancy, task splitting, the chunking of designs, information hierarchies, and/or progress bars.
#gde17 insight: People spend more if the check-out process is simple ?@NathalieNahai ?reduce steps & simplify designs pic.twitter.com/sb64SixE5z

— smec (@smec) October 18, 2017
5. Processing Fluency
Processing fluency refers to how easy it is for people to process information they are subjected to. Content which is easy to process is generally regarded as more trustworthy and credible! Repetition, structure, visual clarity, linguistic simplicity, and direct CTAs make your landing pages more attractive and your ads more effective.
6. Hedonic Adaptation
People tend to become accustomed to the positive (or negative) stimulus they are subjected to, leading to weaker emotional reactions. So, what can you do to keep users engaged? Whether you opt for updating your products, for changing layouts, or for altering reward systems, it is essential to find the right mix of novelty and familiarity.
7. Dopamine Loops
Dopamine induces pleasure-seeking behavior and is a key factor when it comes to motivating people. It's essential, therefore, for every marketer to understand the underlying factors which drive their customers. However, you have to make an ethical decision at this point: Are you still (just) persuading your target group or are you already on the path of manipulation? It all comes down to the question:
What kind of world do you want to build?
Even though Nathalie bases her examples on the B2C world, it is key to remember that B2B customers are still human beings and can thus be persuaded using psychological strategies. What's most important though, is that cultural aspects (such as uncertainty avoidance common to business environments) can alter the effects of psychological approaches.
Photo credit: ms.foto.group