Subscribe to join thousands of other ecommerce experts
5 PPC tweaks to make right now — search patterns and social distancing
Faced with the ramifications of a pandemic, businesses need to change. UK retail sales are down about 4.3% compared with last year, supply chains are in disarray, and almost every industry is undergoing some form of disruption. What's more, how people shop and what they are looking for is in flux.
With stores shut, the value of online channels has never been greater. The fundamentals of PPC haven't changed. But, more than a month into lockdown in most European countries, a number of patterns and successful strategies have emerged. Although it's important to keep long-term strategies in mind, what we have put together here is a list of immediate changes you can make to better align with short-term circumstances.
1. Make space for new search trends and terms
PPC success has always relied on your ability to tap into current consumer concerns, so it should come as no surprise that your first tweak should be to make space for recent changes with the help of market research tools. After all, a failure to achieve this will see you sending irrelevant PPC campaigns into the world, and will ultimately cost you time and money.
Most notably in terms of popular search terms, Coronavirus itself and related words such as COVID-19 are currently dominating the search landscape, overtaking even weather, Facebook, and other front-running contenders. By finding ways to incorporate these into your PPC efforts, you would, therefore, stand the best chance at returns. Until recently, this has been difficult to do, with Google banning all ads 'capitalising on the coronavirus' — making the incorporation of COVID-related terms a risk. However, the inside scoop is that Google is loosening its restrictions and will begin to let good-faith advertisements of quality products use these words if socially responsible.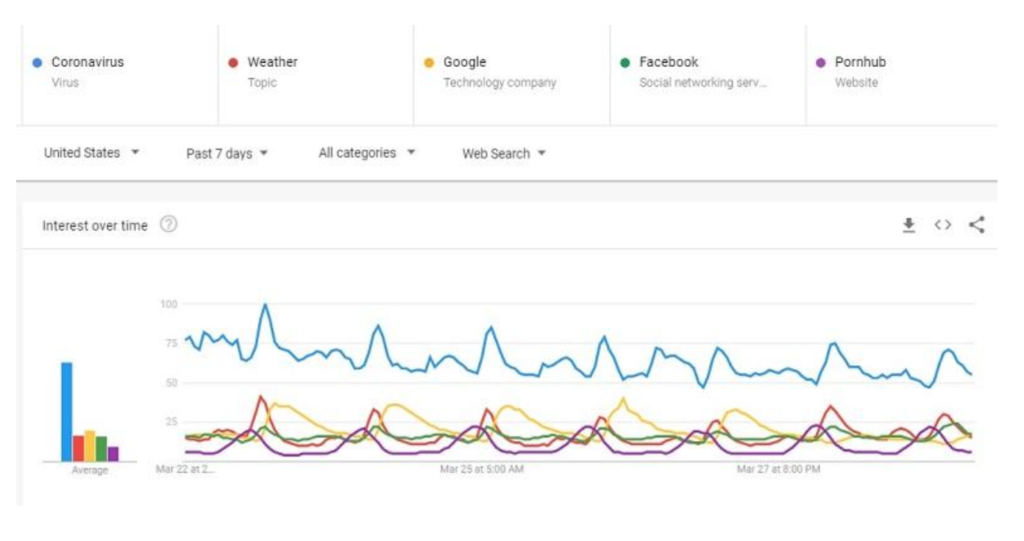 It's also important to watch general market trends. For example, although specific industries are continuing to experience increased PPC spending, 2020 is now predicted to be the first year on record to see an aggregate decline in online ad spend. For keen advertisers, this may actually present an opportunity to expand market presence and snap up cheaper than normal ad buys.
Although you need to look at the specifics within your industry, these figures show where your competitors are focusing their efforts, and where consumer interests currently lie. By tweaking your ads and keywords/negative keywords with this in mind, you can create more relevant listings and optimise the use of your existing budget.
2. Rein in your automation tools
Automation tools have long been PPC go-to's, allowing as they do for predictive bidding, automated campaigns, and some of the best keyword understanding you could hope for — all while reducing the need for effort on your part! It's the dream but, as confusion continues to reign, you'll need to check how your automation tools are coping.
Ultimately, the AI/ML algorithms that form the backbone of automation tools will be just as confused by the current circumstances as you are. Reliance on historical data as a means of prediction makes unprecedented circumstances challenging. This doesn't mean that you should throw your tools out the window. But it does mean retaining full control over the strategic direction of your PPC strategy.
For example, bid automation tools remain the only realistic option for executing a product-level bid strategy within large product portfolios. Even confused by unprecedented circumstances, the reactiveness of bid automation tools will provide far better outcomes than manual processes. However, it's critical that you set the strategic direction for that bidding — using as many custom labels as possible to segment products and control bid priorities and ROI goals.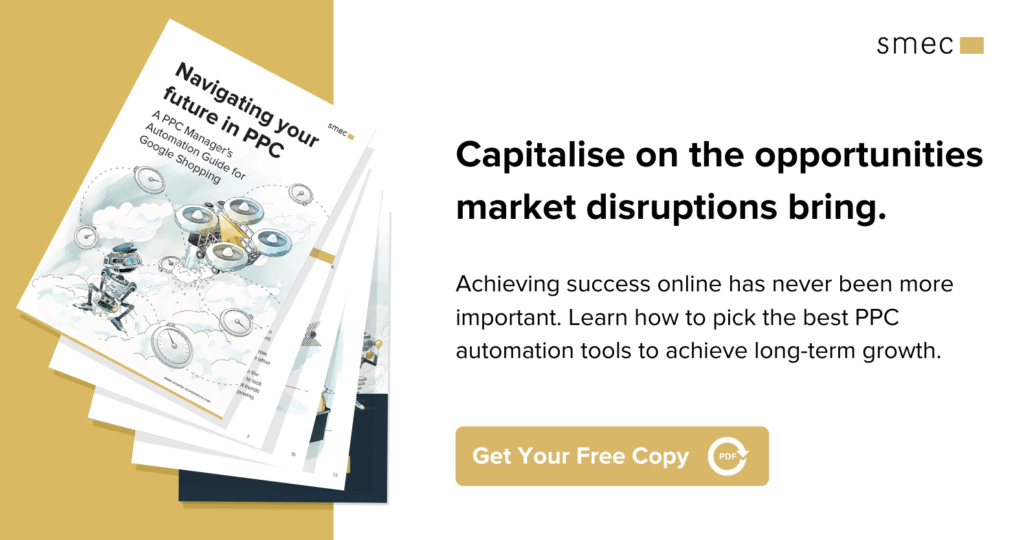 3. Shift ad spend towards the Google display network and YouTube
We are spending more time online than ever before — 50% more in some cases — but where that time is being spent has changed. Google Search traffic is down by 20%, and Google Shopping traffic is down 15%. But these are both still staples of PPC, and should not be ignored. For retailers particularly, Google Shopping is a must. But you need to follow your customers.
Ad traffic on the Google Display network and YouTube is up 14% and 21% respectively. It's more critical than ever that advertisers access the full spectrum of online PPC opportunities. If you've focused the majority of your PPC budget on Google bids up until now, it might be worth considering how you can spread the market reach for improved results during this period of uncertainty.
The main benefit of cross-network PPC focuses is, of course, the chance to reach new audiences when you need them the most. Stats also reveal that taking the time to develop campaigns for platforms like Bing and Facebook ads can increase the number of searches you receive through Google by as much as 34%. In other words, continued success despite shifting searches relies on putting your fingers in more than one pie.
While it will mean spreading your budget for the time being, this effort alone ensures you aren't reliant on one platform at a time when even secure companies are at risk. In that sense, cross-network focuses are a safety net, if you like. Even better, getting your name seen in as many online corners as possible is the best chance you have at keeping spending down while still standing above the ever-competitive PPC crowd.
4. Focus more on traditional desktop users
While many of the changes we've seen recently seem inevitable in the current situation, one surprising shift is the drop in mobile traffic. During March, mobiles searches dropped by nearly 25%. While you might've assumed that more time at home would see people spending their days scrolling, it seems that the removal of commutes alone has taken its mobile toll.
This isn't exactly good news for PPC given that mobile traffic is generally cheaper for advertisers, but you'll still save yourself money by taking note here. After all, focusing bids where they're guaranteed to land is more important now than ever. Automated software could, again, be the best tool in your arsenal here by helping you to automatically:
Judge where current conversions are coming from
Reassess device bid adjustments to counteract mobile changes
Bid smartly to account for mobile PPC again when relevant
What's important is to focus on the results coming in from your own listings and look to optimise your content. Consider creating banner ads and shopping listings that are laid out for desktop views. Although mobile is still important, you will increase the appeal of your listings by optimising them to the devices that your customers are most likely to use.
5. Stay on your toes — and stay aligned with business goals
The last two months have resulted in shifts so significant that we would never have seen them coming. With supply chains and business models challenged by global disruption, it's important to make sure that your advertising strategy remains aligned with business realities. And even when just considering PPC, everything discussed here might change before the end of summer.  

You don't want to advertise products that are out of stock or can't be delivered. You don't want to aggressively buy ads if leadership has decided to circle the wagons and reduce costs. You don't want to cut down on spending if market share expansion is a real possibility. For higher-level advice on determining how your business sits within different strategic options — check out our blog on strategies for retailers responding to COVID-19.
The need for tweaks like those discussed here doesn't end because you've reviewed PPC focuses once. Rather, market trends, automation needs, and even device usage are guaranteed to surprise us at least a few more times before this is over. Assess your PPC efforts at least once a week. Establishing clear channels of communication between all department heads will make sure every element of your business remains aligned.
The number one shift you need to make revolves around flexibility and review. You need to stay informed and look to accommodate shifts as they occur. That means freeing up as much time as possible to focus on strategic planning. Stay abreast of events in your industry and watch market reactions in geographic areas that are ahead of the curve. We are not done with change — it's important to remember.
You may find that you can reduce this review time to a month or even longer as the government lifts existing restrictions. Even once things are mostly back to normal, though, continuing to implement review processes is your best chance at success. We have entered a period of unprecedented change.
An Open Offer to Online Retail Marketers
Now is not the time for smec to be pitching our products and trying to sell our services.
Instead, we'd like to offer you our help. If you are trying to make sense of the new PPC landscape, we are here for you.
Our team of experts can help you make sense of a rapidly changing environment and share actionable insights to help ensure your future.
So, if you're looking to make your most critical strategic decisions, let us help.
Our commitment is that there is no sales pitch behind this form – we're here for you.